Our History
« Winegrowers for 10 generations in Morey-Saint-Denis, the favorite terroir of Pinot Noir, we produce wines that are faithful to their origin, from regional appellations to grand crus. »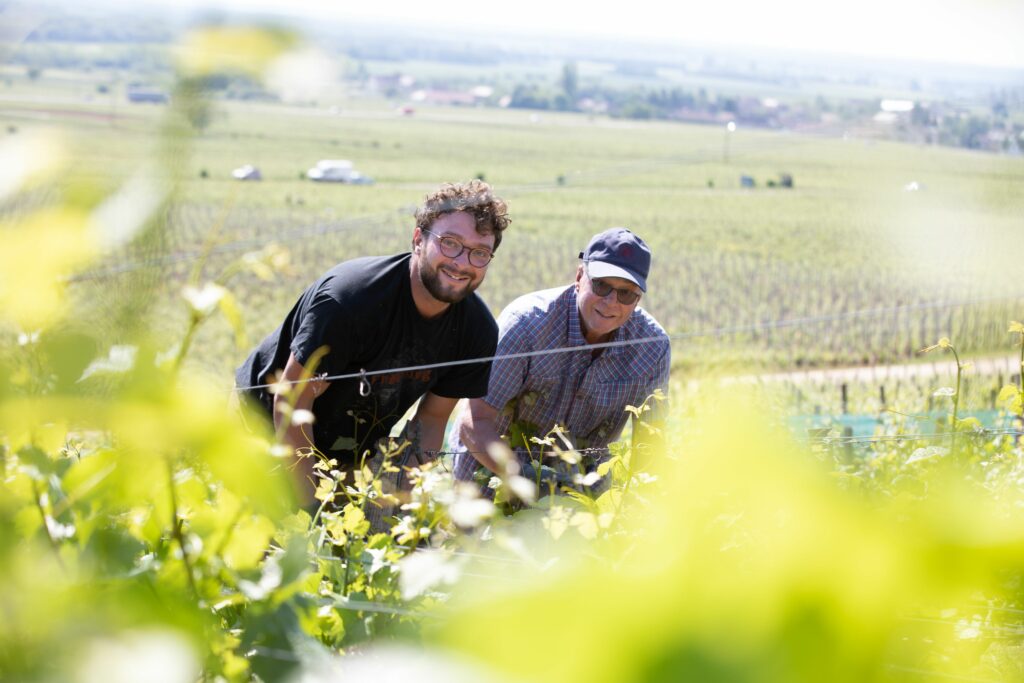 The AMIOT Family has worked in vines and wines over ten generations. Our grandfather Pierre achieved an identity for the Domaine by creating the first bottle label in 1976. His son, Jean-Louis, was the artisan of recognition for the Domaine from the 1980s. His wife Chantal came to support him from 2012 and to look after visitor reception at the Domaine. Today, their son Léon wishes to perpetuate the family tradition: the three roses that appear on our label recall the motto "Sans varier" of the Counts of Vergy, that of continuing "without varying" to express the excellence of our terroirs.
The DOMAINE AMIOT ET FILS, established in Morey-Saint-Denis, extends over 5 hectares from Gevrey-Chambertin as far as Chambolle-Musigny. It offers a complete range of the four levels of appellation found in Burgundy: 3 wines in regional appellation, 4 wines in village appellation, 5 wines in Premier Cru and 2 Grand Crus.
The vineyards, facing the morning sun to east/south-east at an elevation between 220 and 260 metres, lie on limestone and clay-limestone soils dating from the Middle Jurassic. Geological variations render each parcel unique and confer on the grapes a quintessential richness to be found again in our wines. Morey-Saint-Denis is a terroir of predilection for Pinot Noir, the sole grape variety used for our great red wines of Burgundy. One exception: a parcel of white Morey-Saint-Denis (Chardonnay).
Savoir-Faire is the other facet of terroir. At DOMAINE AMIOT ET FILS our growing methods are respectful of the environment for sustainable viticulture:
Soils are maintained by ploughing, with experiments in vegetative ground cover
Guyot-Poussard pruning respects the flow of sap
A balanced approach to vineyard protection, between organic and conventional
Experiments carried out in agroforestry and biodynamics
Introduction of massal selection in our oldest parcels
Our methods bear the HVE quality label for their High Environmental Value.
Our concern is to preserve vineyards capable of expressing the best of our terroir, today and for future generations.
Traditional Burgundian vinification demands a lot of attention. Grapes are harvested by hand in small perforated crates, then sorted on a vibrating table.
Destemming depending on vintages between 60 and 100%
Gentle, slow extraction through cold maceration
Balanced alternation of punching down and pumping over
Long fermentation using indigenous yeasts
Ageing in oak barrel (30 to 50% new oak) for 16 to 18 months
Restrained use of sulphur, vinification of whites without sulphur
Racking and bottling in accordance with lunar cycles.
When you visit the Domaine, we will be happy to explain our methods and to help you discover our wines.
The Wines of DOMAINE AMIOT ET FILS are typical of the Côte de Nuits
Colour intense, from ruby to garnet
Nose of small red and black fruits
Palate well-structured with silky tannins
Our wines are authentic, faithful to their origins. They offer a true balance between power and finesse. They are particularly appreciated for their elegance and generosity.
Léon AMYOT 2 born 09.10.1702, son of Jacques AMYOT 1 « Vigneron » in Morey-St-Denis
Emiliand AMIOT 3 born 22.06.1738, son of Léon AMYOT « Vigneron » in Morey-St-Denis
Léon AMIOT 4  born 17.06.1773, son of Emiliano AMIOT « Vigneron » in Morey-St-Denis
François AMIOT 5 born 20.09.1809, son of Léon AMIOT « Vigneron » in Morey-St-Denis
Pierre AMIOT 6 born 03.08.1833, son of François AMIOT « Vigneron » in Morey-St-Denis
Léon AMIOT 7 born 25.06.1866, son of Pierre AMIOT « Vigneron » in Morey-St-Denis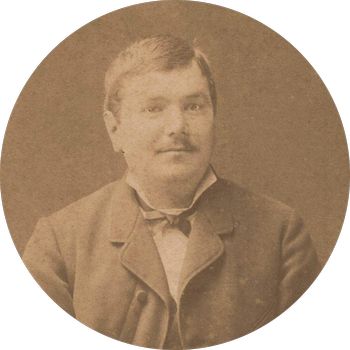 Léon paul AMIOT 8 born 23.12.1892, son of Léon AMIOT « vigneron » in Morey-St-Denis
Pierre AMIOT 9 born 15.04.1929, son of Léon Paul AMIOT « Propriétaire vigneron » in Morey-St-Denis
Jean-Louis AMIOT 10 born 23.12.1953, son of Pierre AMIOT « Propriétaire vigneron » in Morey-St-Denis
1960 Pierre AMIOT distributed the first bottles
1976 Jean-Louis joined the Domaine
Léon AMIOT  11 born 25.04.1995, son of Jean-Louis AMIOT «  Propriétaire vigneron » in Morey-St-Denis
2020 Léon is installed at DOMAINE AMIOT et Fils
*« vigneron » – over the years, the word has evolved in meaning to encompass those growing vines and those making wines. At Domaine Amiot, the full package of activities from vine growing to wine making, domain-bottling and commercialisation has evolved significantly since 1960.